Back in April, I, like apparently the rest of Toronto bought vouchers for a butcher shop on Yonge street aptly named "The Butchers".  At first I was wary it was a scam, I normally have a good nose for this stuff, but after checking out their website I thought, "what the hell". It was an incredible deal and since I had a year to redeem the voucher it shouldn't be an issue.
I read the fine print on the voucher all of which seemed reasonable.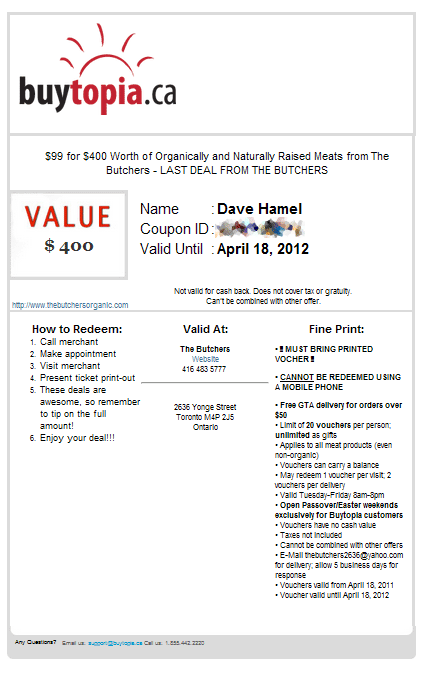 I emailed them to ask how exactly I go about getting my order since I don't live anywhere near Yonge and Lawrence.
Hello,

I am a first time buyer.  I purchased the buytopia voucher at a friends suggestion and I was wondering what the procedure is to order and have it delivered.  Do I simply select $400 worth of meat and pass along my voucher?

Thanks!

Dave
I received an email the next day, which I took as a good sign, but the "no deliveries for two weeks should have been a warning sign.
Hi Dave,

thanks for the email. Yes you just buy $400 worth of meat. If you are looking for a delivery the deliveries are as follows: Wednesday & Thursday GTA core/ Friday Markham and Scarborough/ Saturday Thornhill, Richmond Hill, North York/ Sunday Mississauga, Brampton, and Etobicoke. Please give us 5 days before your order date.

If you would like to place an order you would need to fill out the following in this format.

Date of preference of delivery or pick up:

Name:

Tel #:

Full Address:

Major intersection:

Voucher Company:

Voucher #:

As of right now we are booked for deliveries for 2 weeks.

I am thrilled to hear that your friends have suggested The Butchers. I hope you enjoy your meats and I thank you for your business.

Saruka Para
But being the adventurous sort I hiked off to The butchers in search of my $400 worth of meat.  When I arrived I was informed that vouchers would not be honoured during Easter.  Which is odd because the voucher states "Open Passover/Easter weekends for Buytopia customers." Not voucher holders, not customers but specifically Buytopia voucher holders like me.
I left, a little pissed off about not being able to use my voucher but still willing to give them the benefit of the doubt.  The shop clearly wasn't ready for the volume of people and I didn't really need the meat then anyway.
After a couple of weeks I went in again, this time the shop-keeper informed me that vouchers would not be honoured on the weekends.  However, I didn't want to come away empty handed again so I bought some ground beef.  The shop was so busy all it had left was chicken wings, livers, and some roasts which were way to big for me.  The ground beef was literally being sold as it was grinding.
After going home I realized that the only way to get my order filled was to send it in for delivery or pick-up which I did.  I ordered about $300 worth of meat.  After two weeks I hadn't heard anything from them so I sent a follow up email to Saruka to see if they received my order.  I got an auto-reply:
Unfortunately email orders for delivery and pick up are booked until June 23rd; therefore we are no longer taking orders until after this date. Please feel free to come by The Butchers and select your desired items. This can be done during our voucher hours. We are open from Tuesday to Friday 10am-11:30am and 1am to 6pm. If you wish to place your online order, please resubmit your order to thebutchers2636@yahoo.com after June 23rd. An email response will be sent to your account withing 10 business days.

For any inquiry regarding our products and service please email butchersinquiry@yahoo.ca

We are very sorry for any inconvenience this may have caused.
So I wasn't able to get my order by going in, and couldn't get them to take my order online.  I started doing some searches online to see if this was truly a scam or not.
First up was Yelp which had loads of people complaining about the quality and the inability to redeem coupons.  That lead me to other sites.  One blogger, Kate Raynes-Goldie wrote
A rep at Webpiggy confirmed that by March, they had likely sold $1.5 million worth of coupons – a seemingly impossible amount of product for a small business to honour. The Webpiggy rep also told me that the owners of the Butchers are opening a fish store across the street, which suggests that all this group couponing is not an effort to get new customers (they're doing a horrible job if that's their goal), rather it is fundraising effort for their new business venture at the expense of customers who are not having their side of the bargain held up.
She also linked to an advert that Buytopia and the Butchers published in the Toronto metro. Another blogger noted that the actual amount sold is closer to $2.6 million dollars!  And they analysed the quality of the meat, which was suspect.  That's when I went back to their website to see this:
Please note we have changed our store hours. These hours are effective beginningThursday June 2nd. Until this time we will NOT be honouring vouchers. Please read below to understand why we are unable to honour vouchers this week.

Due to the overwhelming success of our vouchers we have encountered numerous issues in our store with the behaviour of voucher customers. Our staff have been verbally and physically abused. We have met with police to ensure this behaviour does not continue. Because of this we will have police presence at the store beginning next Thursday June 2nd. We are also in the process of installing surveillance cameras for the security of our staff. We are delaying accepting vouchers until security at the store is in place.

Please note if abuse on our staff continues we will not honor vouchers. We are doing our best to satisfy everyone however we can't guarantee stock and abusing our staff will not resolve the issue. We ask for your patience during this time.

Our store will be closed to voucher holders until Thursday June 2nd to address these issues.

New Hours Effective Thursday June 2nd
Tues-Sat: 6:30pm-9:30pm

Voucher Coupons will not be honored at any other time. NO EXCEPTIONS
Note the underlined part [my emphasis].  I can foretell what will happen; they will claim that their staff have been abused and then won't honour any of the vouchers.  Now perhaps people have been abusive to their staff, but it doesn't take a rocket scientist to do the mathematics.  If you normally sell a thousand dollars worth of meat a day, and you sell vouchers with a 4:1 ratio you had better assume you will sell somewhere around $4000 worth of meat a day.  With 2.6 million worth of coupons on the market you will need 8 million dollars worth of meat!
Toronto life mentioned that Buytopia's forum was shut down it got so many complaints about the deal.  I imagine they are pretty pissed too. I did see on their website:
As a buyer of a Voucher on Buytopia.ca, you are expected to follow the refund policy rules stipulated under the Deal's refund information. As a Buyer, you are also entitled to a 30-day buyer remorse period, and have the right to cancel a Voucher and request a refund from buytopia.ca for which you have paid over $50 CAD. We will act in accordance with the Consumer Protection Act, 2002 found here – http://www.sse.gov.on.ca/mcs/en/Pages/Your_Consumer_Rights.aspx.
I emailed and phoned Buytopia to get a refund, but so far no reply.  Perhaps they're in on the scam too.  I will give Buytopia a week to respond then I am going to submit complaints to BBB, and the City of Toronto (who does the licensing).
Fuck coupon sites and the like.  My spidey web senses were tingling and I ignored them. Thanks Butchers, lesson learned!
Related Posts: