It has been a year since I wrote the blog post on my top 5 restaurants in Toronto and my, how things have changed. With Zuimei away in Japan I tend to eat at restaurants a little closer to home.  This has happily exposed me to some new and excellent places to eat which, most importantly, provided good value for the money.  I would like to share them with you.
Debu's Nouvelle Indian Cuisine – this is the new kid on my list.  I have only eaten there once but "WOW".  I live near the little India on Gerrard  so I have eaten my share of Indian food.  What was so impressive about this place, and why it made my new top 5 list was the experience was complete.  I had great company, great service and great food.  Here is the review I wrote on Yelp:
Debu must mean "divine" in Indian or something because the dinner I just had was amazing!  I live near little India and so I'm used to naan, pakoras, dahl but not like this.

The spices were perfect, complex and layered with such skill we had to literally count the chews to make sure we didn't gulp it all down.

We had pakoras, vegetable platter (not sure what else to call it), mango lassi, dahl, chicken (done three different ways), papadum all beautifully presented with exquisite service.

The menu changes all the time and there is a new menu coming out next week.  I can't wait!
High praise indeed, but I think it can live up to it. It's not the cheapest place to eat ($60/person) but so, so worth it.
Jules Bistro Cafe is next on the list, which was one of Karem's recommendations.  Jules is now my go-to restaurant for when I want a little treat.  It is a French restaurant without the French restaurant prices.  Located near the corner of Queen and Spadina it is well situated for lunch or dinner.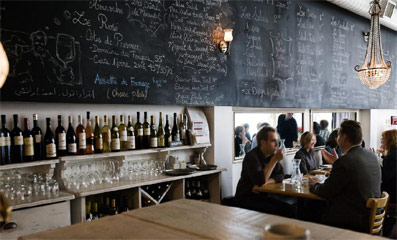 I have a favorite dish, which luckily is part of the Prix Fixe, which is a reasonable $24.95. It is the "Sauté de Poulet". A chicken breast in a mushroom cream sauce.  A pretty simple dish, but it is so good it is all I can do to not lick my plate.  It's made with a lovely bechamel and is seasoned so delightfully that you will be using the slender crisp fries to mop up every last drop.
I have also had the croque monsieur which is excellent, but I have seen someone else get one that should have been cooked longer so ask for it well-done.  The salads are nice, I like the salad chevre because of the goat cheese on the piece of toasted baguette and the light dressing.  Over dressed salads are gross.
And I can't forget the crème brûlée!  I believe you can judge the quality of a restaurant by their crème brûlée and this one is very good.  Crispy top which means it is flamed just before they serve it and despite being essentially fat and sugar is not too heavy.
The wine list is reasonable; good selection and well priced.  All in all a nice place which is why Jules has become my place for a special treat and with the prix fixe and a glass of wine coming in at around $40 it is well worth it.
Green Eggplant was a life saver while my kitchen was getting reno'd (which reminds me I need to finish posting about that!)   Skip their website, it is awful; just go eat there. (I linked to Yelp instead.) The portions are HUGE! which was handy because I was able to take the left overs home for a snack.  Some dished are so large they could really be dinner for two.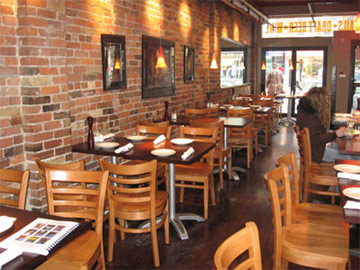 Why this restaurant is on my list is the value and the bread basket. You get more than you pay for which is always a win in my book.  The bread basket though is what makes this good but restaurant a great restaurant.  It is a basket of three different types of bread and buns which is served with a tray of hummus, eggplant spread and babaghanoush.  Who knew eggplant was so delicious?
Service is reasonable but the place can get crazy in the summer around supper time so make a reservation if you can't wait for a seat. The prices are very reasonable and you can eat there plus beverage for $30 and be absolutely stuffed.  The menu is varied so there should be something for everyone.
Guu Izakaya bar is a chain (with 5 locations in Vancouver and one in Toronto) and while I was disappointed that this wasn't a totally unique experience, that I certainly couldn't fault them for having earned success.  The first thing you will notice about Guu is the line up.  I went with some friends for dinner on a Tuesday and we needed to wait for an hour and a half to get seated.  ON A TUESDAY!
Cindy insisted that it was worth the wait and she was right.  The second thing you will notice about the restaurant is the noise.  When you walk into the restaurant all the staff (and some of the patrons) will yell "Irashaishimas!" which is "welcome" in Japanese over the loud chatter and laughter that fills the air.   The restaurant consists of some small tables for two on a raised platform, seats at a counter (common to Japanese bars) and 4 long wooden communal tables.  It is actually a shrewed idea because when you see some delicacy being delivered to the folks seated next to you, you can't help but order one too!
The dishes are small "tapas" like plates which are intended to be shared.  Guu is not the sort of place you go for a quiet night out or a romantic dinner, it is a loud, raucous place to drink and laugh and forget about work.
We had the fried brie which, while not really "Japanese" was so amazing that we almost ordered it twice; but with so many things to try we moved on.  The chicken karage was delicious and very much a staple of Japanese cuisine.
Tako yaki is not easy to find in Toronto, and one of my all time favorite Japanese foods.  It's a piece of octopus in a dough ball that is cooked then covered with mayonnaise, bento flakes and some brown sauce (also pictured)
The carpaccio was also a stand out dish of the evening, and had us competing over who got the last slice.  I forget how many dishes we ordered but it was over a dozen for three of us and a couple of pitchers of beer.  All in all the tab was around $80/person but we whooped it up pretty good and everyone had a warm glow by the time we left.
Rounding out my list this year is a restaurant I don't go to often enough, but only because I don't have a car.
Szechuan Legend is located at Midland and Finch, and it is about as close to authentic as you can get outside of Szechuan province in China.  Apparently they do Dim Sum but who cares, go for the hot stuff.
A must order dish is the sliced beef appetizer.  I could not find a photo of it online but look around the room, someone will be having it.  The beef is slow braised and then cooled.  Once it is cold it is thinly sliced and server with a mix of chili peppers, green onions, peanuts and sesame oil. Fantastic!  but not for the faint of heart.  In fact, if you don't like spicy food then stay away from this place.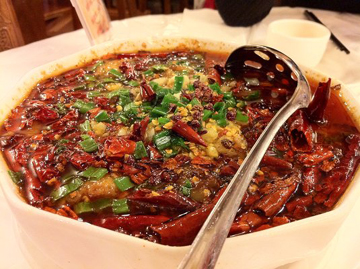 Another "must have" dish is the spicy poached fish, which luckily Tong J. on Yelp did have a picture of.  This dish is intimidating, delightful and coy all at the same time.  When you first see the spices floating on top you might think there is no way you can eat it, but the poached fish hiding under the chilies and oil is divine. Ask for an extra plate or bowl and scoop out the chillies if you're too intimidated.
The "cool off" dish we usually get is mung bean noodles with cucumber and sesame sauce.  It is the perfect Yin to the spicy Yang of everything else. Be sure to order the "Gong Bao ji Ding"  (spicy chicken with peanuts and chillies) and lots of "pijo" (beer). You will definitely want the beer.
One word of warning however is the staff is Chinese, in a Chinese restaurant, filled with Chinese, in a Chinese part of town.  Don't be too upset if you need to repeat yourself several times to get your order understood.  I usually go with native Mandarin speakers so it's no problem but I have seen others struggle.
So there you have it.  My top 5 restaurants in Toronto for 2010.  Not necessarily the fanciest or ones with the biggest hype but the restaurants I enjoyed and wanted to share.
Bon Appetit!