1. Your data is only as good as your implementation.  When we implemented SiteCatalyst for the CBC we did a good job.  I can't knock it, but implementation has gotten so much better with the use of Tag Manager, Processing Rules and contextual data tags I strongly feel like we need to re-implement the code.  It has been 4 years after all and since then we've changed CMS and video platforms, we're expanding into mobile and other emerging mediums, departments have undergone restructuring and quite frankly some of the data we though was important, really isn't.  I don't know exactly how I am going to do this yet, but that's why I make the big bucks.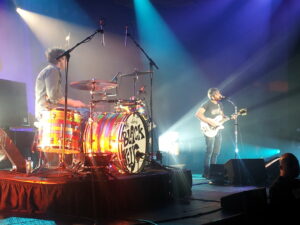 2. Marketing people know how to party.  Maybe it's the nature of their business; connections and networking are everything, but I couldn't help but feel a little like a wallflower.  Drinks were supplied and every evening there was a party at one venue or another; some hosted by Adobe, some hosted by vendors.  At the Summit Bash they had acrobats, chefs making hors d'oeuvres, lots of booze, and the grammy award winners Black Keys.  I lucked out and happened to make it to the front row just before the band started hence the amazing photo.
3. Big data means big troubles. You want everyone to use the data, but you don't scale and more and more data is being produced everyday.  And while often hear "big data" being thrown around, but what you don't hear is "big analytic team" or "big analytic budgets".   I heard many people at the conference complain that they spend so much time collecting information they don't have time to analyse anything. Adobe is working on helping analysts collaborate with other people in the corporation through the use of the Marketing Cloud. Essentially this allows analysts to share data quickly by adding it to a feed which sends the information out to every one on a project. I suppose it is the old line about breaking down silos but the new Marketing Suite seems to do exactly that.
4. Processing rules are crazy powerful.  As an implementer I am always interested in tools that can make my job easier.  Processing rules do just that.  They are similar to VISTA rules but are created by administrators, not just Client Care.  For example, you could create a processing rule that identifies branded and non-branded keywords for search traffic.  You could create a processing rule which identifies based on IP address and allows you to tag traffic as internal.  Processing rules can be used in a variety of ways, but one has to be very careful because you can screw up your implementation (See point #1).
5. Contextual data variables are going to make life easier.  One of the challenges when we faced our implementation was mapping out all the s.props and eVars.   I maintain a giant spreadsheet which I occasionally print out of all the variables across all of our report suites.  With 150 variables across 12 report suites it becomes a fair amount of effort.  Contextual variables allow you to call things what they are and then map them to the appropriate variables.  For example:
s.contextData['author']="JK Rowlings"
s.contextData['section']="books"
s.contextData['genre']="fantasy"
The processing rules can take this information and slot them into whatever s.props and eVars you want and in whatever fashion you want to processing rules could concatenate or separate values.
6. We are a varied group of people.  There was something like 5,000 people at the conference, from 27 countries with over 1,800 different job titles.  One person even had the word "tzar" in their title; "content tzar" or something like that. I mingled and talked to some very interesting people: a guy from Costco who helped run their billion dollar website with a team of two, a woman who worked for SouthWest airline and utilized test and target, a couple of Brits who worked for Hotel.com who were involved in some of the beta tests for new Adobe products.  Everyone I met was intelligent, friendly and optimistic for the future.  Adobe threw a great party, but more importantly to me, passed on some great information.