I recently purchased some photos from Sport Zone Photography operated by Peter Hein. I was delighted to find photos of myself cycling but dismayed at how fat I look. *sigh* There is a goal for next season.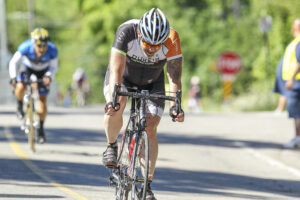 So my first season racing has come to an end. I enjoyed myself but didn't race as much as I wanted to or should have. I only had one good result, which was Calabogie. I found I tend to go out too hot and then suffer for it later. Once I got dropped I was never able to capture the pelaton again.
I didn't ride in any time trials because I don't have a time trial bike. Something I intend to correct this winter.