Awhile back Chris Berry and I had a conversation about the state of analytics and tracking and where the industry is going.  We were both concerned that analysts were going to screw themselves by tracking information they had no business to. And that it was just a matter of time before someone dropped the ball….Well, the ball has dropped.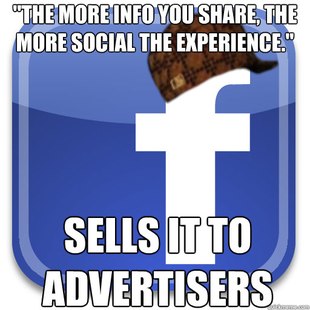 Facebook just admitted they have been tracking users even after they log out of the site.
Violating personal privacy is nothing new to Facebook.  Heck, their entire business model is based off of selling your personal information which is why I got off of it years ago.
In comparison, the breech of Sony was a Fukushima, it was a disaster for the corporation but was caused by an outside force.  One could argue they should have been prepared but if the hackers hadn't attacked them it would not have been an issue.
In the case of Facebook, it's a Chernobyl.  It is violation of privacy caused by the companies own actions (which it calls a glitch). In an effort to cover it's ass it has recently set up its own Political Action Committee, an American term for a lobbying outfit to get its views heard on Capitol Hill.
So far this year it has already spent £352,000 ($550,774) on lobbying, already ahead of last year's total of £224,000.
Scumbags….
Money it made by selling its customer's personal information to advertisers.