Last week Zuimei and I went to Cancun, Mexico.  It had been several years since the two of us had a vacation together, just us.  I booked the trip through Expedia and it was a toss up between Bermuda and Cancun but in the end we decided there was probably more to do there.  It is difficult to pack for a trip to somewhere warm while it is ten below outside.  It is also difficult to pack for two.  Zuimei had been in New York on business so he was arriving the night before we leave.
Once at the airport we got cornered by a tout who could hook us up with all the tours, etc.  I was a bit confused since he had an official looking badge and was inside the secure zone of the airport so I guess he was state sponsored tout?  We politely extricated our selves from that situation and were met by the Westjet agent. Eventually they had a board a minibus and shuttled us off to the Hotel zone and eventually our hotel.  Zuimei tipped the driver and we checked in.   One thing I advise, if you are going to Cancun is to get a hundred one dollar US bills.  Everyone there asks for tips.  Even though we were in an all-inclusive resort (and there is much debate about this on TripAdvisor) we felt sort of obligated to leave something every time we ate, or to tip the maid service.
The resort I had chose was the Grand Caribe Real.  They had a good rating on tripadvisor and from the photos it looked good. The rooms were fine, They were clean and spacious.  My only complaint would be we paid for a junior suite ocean view and you needed to go out on the balcony to see the ocean.  I wanted to be able to see it from our room.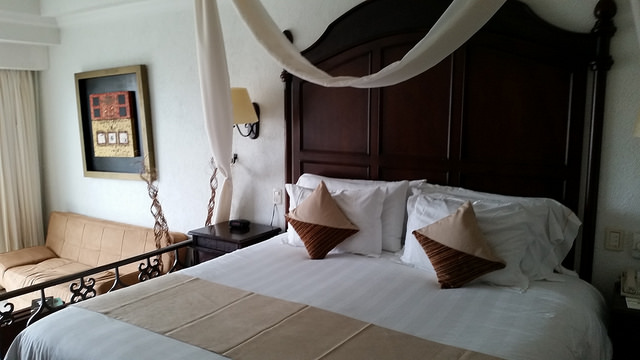 We did have an issue with the nightclub from the hotel next door being right under out suite.  As a result the thumping music was keeping me up. The staff were happy to move us to another suite on the other side away from the noise of the club.  However now we were on the street side and had the noise of cars and trucks as well as the resorts massive air-conditioning system.  Still it was better than the thumping base.  Our view changed as well with us now looking back towards Cancun proper.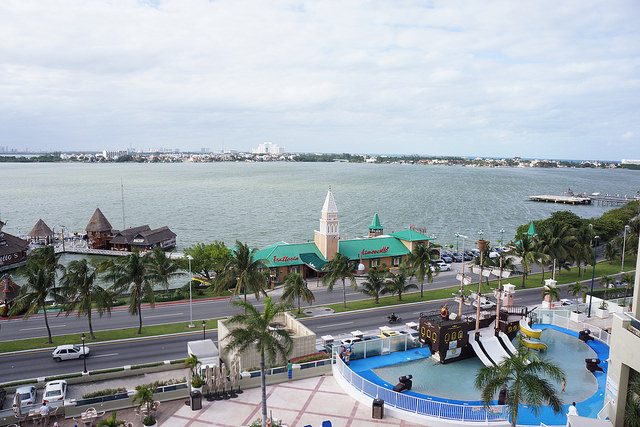 When we go back to Cancun, we will not be staying at the same resort.  Not because it wasn't good, but because it is really family oriented.   The resort is centered around the pool area with most of the rooms looking inward.  Several of the restaurant overlook the patio as well.  If you have kids this is the perfect place for you.  There are lots of staff, who are incredibly helpful and speak English very well.  So you can be confident that your family is safe.  But if you are like us, and really after rest and relaxation this might not be the best place for you.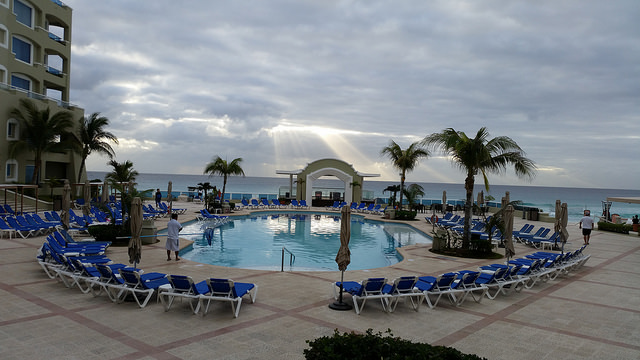 The food was okay.  Neither of us got sick or anything which sometimes happens when you travel.  The resort has 5 restaurants.  Two buffet style restaurants, a Mexican, an Italian and a steak restaurant.  The food, as you can see was beautifully presented but a little disappointing.  I assume because it is a family place we found the flavours quite bland.  We shouldn't be too surprised though, if you want authentic Mexican, you have to find out where the locals eat.
The resort was all-inclusive so you can order a pina colada at 10 in the morning and no one looks twice.  I know because I made that part of my daily routine.  Unfortunately Zuimei doesn't drink so I am not sure we got out money's worth on that front.
One of the daily activities for us was shopping.  Often it was just browsing since a lot of the touts sell the same plastic crap made in China.  One of the places we went was Mercado 28, which is this sort of market for tourist stuff. This reminded me of being in China, with all the vendors calling to you, "Amigo, come see my shop. What do you need? I have it"  If you are feeling up to it you can bargain quite aggressively.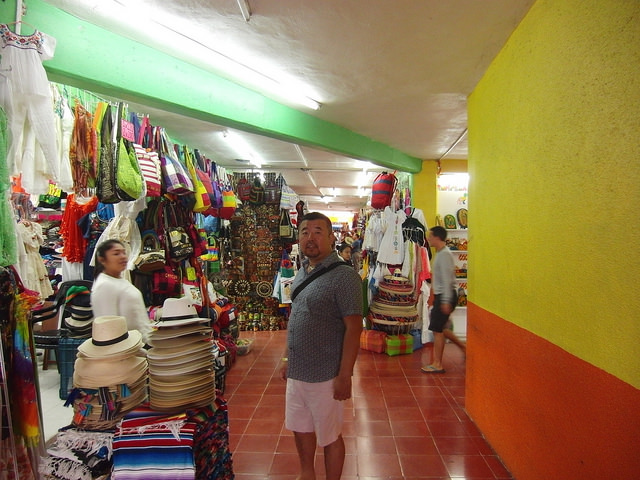 One of our favorite stores is called Amberte.They sell beautiful, authentic artwork from all over Mexico and can provide you with additional information regarding any of the things they sell, who made it, what part of Mexico it is from, why it is an important piece.  We bought several items there, jewelry, pottery, a bead bear…  What was sad though is both of the locations we went to were in these depressing, dying malls.  In one of the malls 60% of the stores were shuttered. and the rest all sold the same plastic garbage.
Related Posts: