The city of Toronto is again threatening the funding of pride if the Queers Against Israeli Apartheid marches.  Councillor James Pasternak likens the group to bullies, "I think I'm looking for some leadership from Pride to finally say 'No' to this kind of bullying and demonization. We don't pull funding just for the fun of it. If Pride feels that supporting QuAIA is more important than a cultural grant then that's their decision."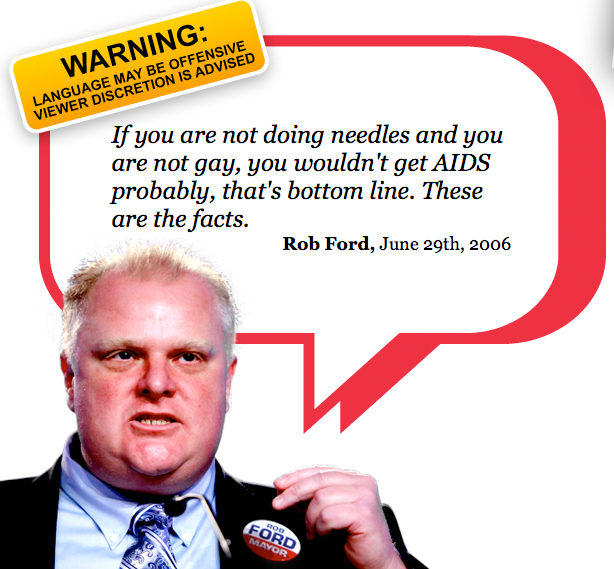 The group's participation put the $100,000+ funding in jeopardy.  This is of course a red herring.  City Hall doesn't give a shit about gays and would happily pull funding for the fun of it if there wouldn't be a massive back-lash.
Please don't think I'm an anti-Semite, or even anti-Israel.  I just think the city should stay out of it rather than getting involved in a very, very complicated situation.
By fighting against the QuAIA, the city is basically throwing it's hat in the Jewish corner.  We all know how strong the Jewish lobby is; it makes the "gay agenda" look like a kid's tea party.  The city has no business siding with one group or the other as long as no laws are broken.
Using gay Pride as the lightning rod allows City Hall to smack the gays while supporting their friends and all the while  ignoring the fact that Pride brings million of dollars into the city.  A benefit the city reaps, not the gay community.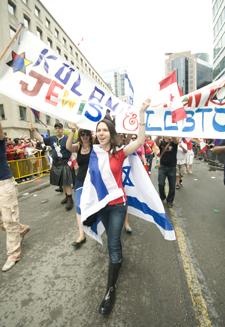 Not to mention the fact that Pro-Isreali groups are in the march as well.  And so they should be!  Pride should be about freedom of speech and being proud of who you are.  Being pro-Jewish doesn't make one Anti-Palestinian.  And speaking out against Israeli Apartheid, real or imagined, is not the same as speaking out against Israelis.  The city manager agreed that the phrase "Israeli Apartheid" does not violate the city's anti-discrimination policy, so really the city has no business getting involved.
The  Jewish Defence League protested at Pride offices, which apparently degenerated into name calling and anti-gay slurs.  What are clearly signs of hate speech, likening Palestine to a plague, (ironically the same language used against Jews) and yet there is no protest from city hall, no outcry.  Why not?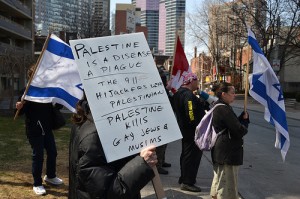 The JDL's facebook page also posted, "During the Nazi Era, many high-ranking Nazis were gay." Which is clearly a stupid analogy.
Xtra, the queer newspaper reported: "That statement is 'inane, meaningless and nonsense,' says Canadian Jewish Congress CEO Bernie Farber. 'Is the JDL trying to suggest that gays and lesbians are Nazis?'…'They shouldn't be protesting Pride Toronto, anyway," says Farber. "They should be protesting QuAIA.'"
Gay pride is about protests.  It started as a march through the streets of New York to protest the unfair treatment of gay men by police at the Stonewall Inn in 1969. And if it wasn't for those drag queens and rent-boys taking a stand, we wouldn't have a gay-rights movement and same-sex marriage today.
Toronto held its first Pride three years later in 1972. We now mark the infamous Stonewall Riots every summer with a parade through town. If you don't like a groups politics, then just ignore them.