So I finished my second race today and came in 12th!
I didn't achieve my goal of breaking into the top 10 but I was pleased with the result.  Calabogie is a race car track and so there is no yellow line rule.  I found it much easier to ride this on than the Good Friday race.  The issue with Good Friday was the yo-yoing.  This didn't seem to have that as much, although the average speed was much faster, a whopping 39.3km/hr!  I spent a lot of time trying to stay near the front, but found I preferred to be on one side or the other.  I didn't really like being in the middle.  At  one point I was pinched between two riders and ended up running and bumping on of them to cries of "Ooh! Aay!"  So I quickly realized that my place was on the side, but as a result sometimes I had no one to draft off of.
On the second to last lap a team of guys in matching kit pulled along side the pelaton and tapped the guy in front of me on the shoulder yelling, "Let's go!"  So I figured they were making a break for it.  There was only about 8km to go so I jumped on their wheel and made my way to the front.  In the end, they all gassed out and pealed off, I thought they were echeloning
Simply put each guy does a new moments at the front working as hard as they can and then when they're tired they drop to the back and recover until it is their turn again.  When when I ended up at the front I pulled like mad only to find no one had come with me!  I tried to keep going to catch these two guys who were out on their own but they were gassed by the time I caught them so I eased off and waited for the pelaton to catch us again. There was no way I could hold out for 7 more kilometres and the pelaton was beginning to really move.
I ended up getting absorbed in againand it gave me a few moments to recover. By the time we were on the last lap I was near the back of the pelaton again.  I realized that I was not going to be able to move to either side.  I had promised myself that I was going to get on the "pain train" and ride it to the end so in an attempt to get to the front again I actually stopped pedalling until I fell out of the back end of the group with just the pace car behind me.  I knew it would be easier to pull upside the group than it would be to try and fight my way to the front again.  The course isn't exactly hilly or flat but the little descents gave me the opportunity to pick up momentum and with a new pedal strokes carry that momentum up the little hill since the course was wide, there was lots of room to zip up front.  I could see my teammate, Dave Chong had already moved up near the front so I knew this was the right time to be moving up.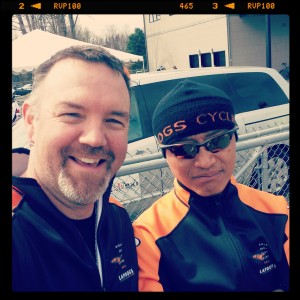 As we came around one of the corners I could hear this horrific crash behind me, but at 48km/hr I wasn't really in a position to look.  With just a few more corners and dips I put myself up front and then there was just the sprint to the end.  The sprint was tougher than I wanted it to be.  With my earlier attempts at a breakaway my legs really didn't have the pep.  I think I was able to hold my own but wasn't really making up time on anyone.
I found out later Mark Buckaway, who I mentioned in an earlier post was in the crash. I spoke with one of his team mates and apparently he's okay.
***Update*** Mark just posed the video of the crash and you can see me, #154 in front of the guy in yellow on the right hand side. Dave Chong comes blasting through and then I suck onto his wheel.  At exactly 1:29 you can see me brake and the guy in yellow  go all squirrelly.  In my defence someone was  breaking in front of me.
So for me another race in the bag.  I am getting more comfortable and more confident. I think the next race for me will be Effingham.  However it has a crazy hill and I am not exactly a climber…