It's no secret to anyone who knows me that I love the Internet.  I love it way more than I could ever love another medium like radio or TV.  I also love cats(and have two) so it might be some sort of loner connection between people who surf the web and the normally solitary feline, I don't know but there is a connection there.
The downside of the Internet however is that for the most part I am jaded and no longer shocked.  I have seen things from the absurd, to the sublime, to the deeply disturbing.  One of the disturbing things I came across recently is this video of a middle-aged woman putting a cat in a garbage bin.  It almost looks like a Monty Python skit except the camera information in the bottom left  which shows it is actually closed circuit television.  Which is common in the UK. That and the fact that the cat was in there for 15 hours!
The story isn't all doom and gloom.  First off, the cat is okay – thankfully.  Secondly, the woman, Mary Bale has been apprehended and is safe.  I write "safe" because she has received countless death threats.   You see, the internet loves cats.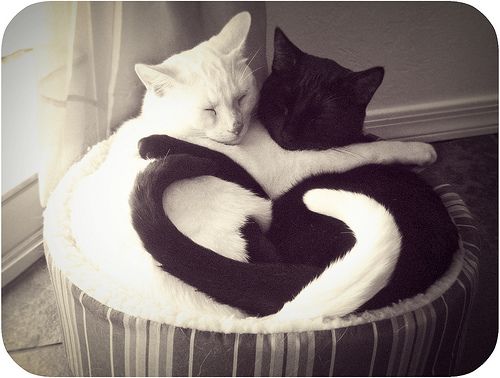 And I mean it FUCKING LOVES CATS. Especially 4chan.
If you haven't heard of 4chan I won't explain it, I would be breaking the first two rules. What you should know is that 4chan is the best and worst of humanity at it's most uncensored. 4chan is the home of anonymous "/b/tards" and they can be ruthless.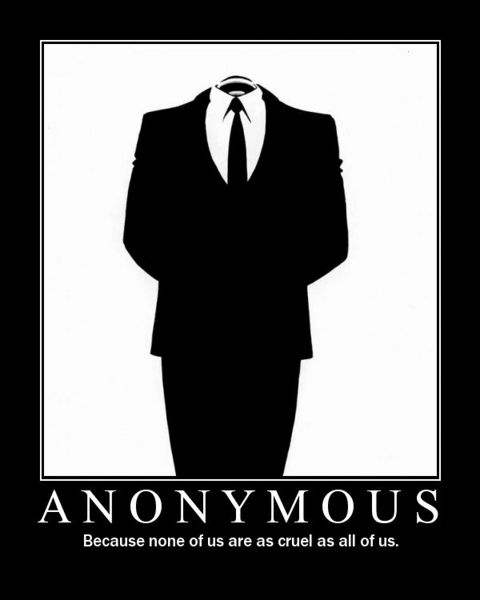 Anonymous however, has a soft spot for cats.  Awhile back a kid named Kenny Glenn posted a video of himself abusing a cat. I will spare you the details, you can go find them yourself, but suffice to say this little fuck is a Jeffery Dahmer in the making.
Anonymous got wind of it and using some sleuthing had the kid identified and arrested within 48 hours. After his parents, who were big shots in the small town of Lawton had most of the news hushed up, Anon went into overdrive:
Should he register an account with any service they will be there to "out" his past actions. Kenny Glenn, and all those around him, will be haunted by his cruelty for a long time by any means the community can muster. Hate mail, prank phone calls, and possibly even visits in person are not out of the question.

One thing is for sure. Dusty will be avenged.

~encyclopedia dramatica
Just like Kenny, Anon helped identify Mary. And just like Kenny, Mary's life on the internet is over. You see, the internet never forgets, and Anon never forgives.
Anonymous has also helped identify the four kids in Camrose who microwaved their neighbor's cat to death and then wrote on the walls "Nice cat, look in the microwave."  You see, Anon doesn't really care for the legal system. They don't give a shit that you can't publish the names of minors in Canada. Once judgement has been pronounced they will mercilessly go after someone.  Just ask Jessi Slaughter.
The owners of the cat, Stephanie and Daryll Mann, are asking people to not hurt Ms Bale. But really, her life is over.  No matter where she goes, Ms Bale will have to carry the shame and responsibility of what she did with her for the rest of her life. I imagine people in her neighborhood and friends must be looking at her like "WTF?!!"
So the moral of the story kids is for the love of God, be nice to cats, because you never know if Anonymous is watching.