Cycling can be a dangerous endeavor, but not because there is anything inherently dangerous in cycling but because of the environment you are in.  Distracted drivers are the most dangerous issue simply because in an argument between a car and a cyclist the cyclist will loose every time.
Today there was a tragic case-in-point when six cyclist were run down killing 3 of them on a rural highway in Quebec.  I write "rundown" because this was a 4 lane highway.  As such,the cyclists who were all riding road bikes would have been in the road itself. If you look at the Google Map you can see the 4 lanes and how straight and flat the road is. You can also see how bad the shoulder is.
Having countless hours and kilometres under my wheels I can tell you they were probably not doing anything stupid. They were members of a cycling team training for the triathlon season so they would have had lots of experience on the road and been attempting to get as many miles in as they could, not playing around on the road.
[caption id="attachment_1954" align="alignleft" width="405" caption="Ryan Remiorz/THE CANADIAN PRESS"]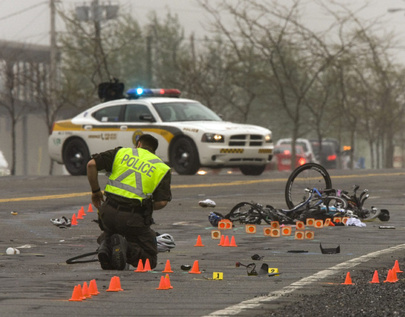 [/caption]
When you look at the crash, each cone represents a piece of a bike, or clothing, or helmet, or person.
This incident is similar to an incident last year in Ottawa except at that time they were in a bike lane when struck.  Luckily, in that incident no one was killed.  You can see in the picture  from CBC a clearly marked cycling lane.
[caption id="attachment_1955" align="alignleft" width="220" caption="CBC"]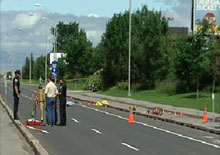 [/caption]
While there is a bike lane near by, it is a mountain bike lane, paved with gravel and not suitable for road bikes. So what is supposed to happen.
Well, having ridden a considerable distance along the trans-Canada I can tell you that most drivers are excellent. They move into the middle lane even when I was on the shoulder to give me as much room as possible. The tractor-trailers were especially good so hats off to them! The worst were BMW divers, with Mercedes Benz drivers a close second.
The problem lies with a sense of entitlement. Now I can't say why BMW drivers feel entitled to the road and why truck drivers don't; perhaps truckers just have more sympathy for others putting in long miles (Or they don't want me getting sucked under the tires and slowing them down.
In the cities, as well as the rural areas the same problem exists. So what should be done. In my opinion both as a driver and a cyclist the safest solution is to separate cars and cyclists. Period. No more share the road, no more coasting up the shoulder, simply move cars into their own lanes and cyclists into their own lanes.
The reason I write this is because cars and cyclists move at vastly different speeds. In the city when I am on my bike I am way faster than a car is. Faster because I can zip past obstacles they cannot. In the rural areas, they are clearly faster. When I was in Pakistan I met a cyclist named "Mike the Bike" from Vancouver who related a story of riding up the Alpe d'huez. When he reached the top and pulled over to admire the view a long line of cars, who had been patiently waiting motored past him, several people leaning out the window and shouting "Bon Courage!"
Apparently they like cyclists in France.
The point is that in some cases that sense of entitlement does not exist, in others it does. In Beijing the wealthy elite (communist party members) were the only ones who owned cars and having a sense of entitlement they were not about to wait for mere peasant cyclists. But the cyclists were there first and the Party would have a riot on it's hands if they tried to ban cycling. As a result they simply separated the cyclists from the cars.
[caption id="attachment_1961" align="alignleft" width="500" caption="Shreyans Bhansali"]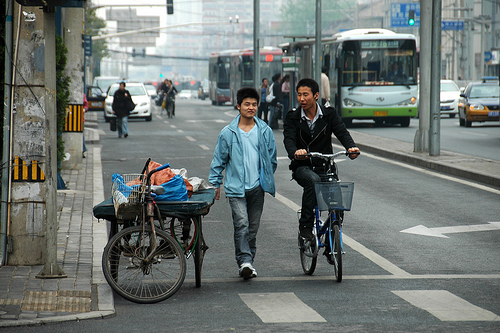 [/caption]
If you look at the lane there is a divider between the cyclists and the cars.  Cars that are turning right or parking can get into this dedicated space but the understanding is, this is cyclist territory, go slow!  Cyclists even have their own signal lights.
Toronto however is a confusing place.  On one hand it wants people to cycle.  On the other it doesn't.  Unfortunately, until cyclist and motorists stop competing for space, there will be more of these tragic accidents.  And as a cyclist I wonder how long I can remain on the loosing team.