We were here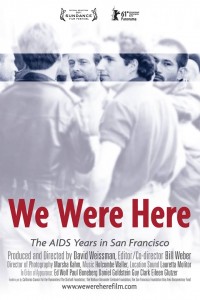 Directed by David Weissman, this is the only documentaries on my list.  We Were Here documents the emergence of HIV and AIDS in San Francisco in the 80s.  What makes this documentary so powerful to me is the way it shows the response within the gay community. It is told through archives and interviews with the men and women who survived.
As someone who grew up during the AIDS crisis, it had a huge influence on my own sexuality. Sex became a potential death sentence.  If I was ten or fifteen years younger I could have very easily been caught up in this.  The AIDS crisis shaped my views in a very powerful way.
"If you put a group of young men together and told them to have as much sex as they can, how much sex would they have?  The answer is a lot of sex."
There are some powerful moments recounted by the men who lived through it; from the initial postings by the local pharmacies warning of a "gay cancer" to the responses by food banks lead by lesbians.
It marks a moment in gay history as powerful and as important as the death of Harvey Milk and the Stonewall riots.
Hero
This was one of the first Chinese movies I had ever watched that belonged to the new Wuxia era of Chinese filmmaking.  Since then there have been many others to great acclaim such as Crouching Tiger Hidden Dragon, or House of the Flying Daggers.  However in my opinion Hero is still the best of this genre. I am sure someone has dubbed it in English but I prefer to watch it subtitled.
The cinematography in Hero is really second to none. Similar to the films of Peter Greenaway these films films are visual masterpieces. The martial arts in it is spectacular, however I am not really an aficionado of martial arts so I can't say how it compares to other filmes.
I suppose another reason it is on my list of top movies is it was one of the first movies I watched it with my husband who at the time was my boyfriend.
Related Posts: